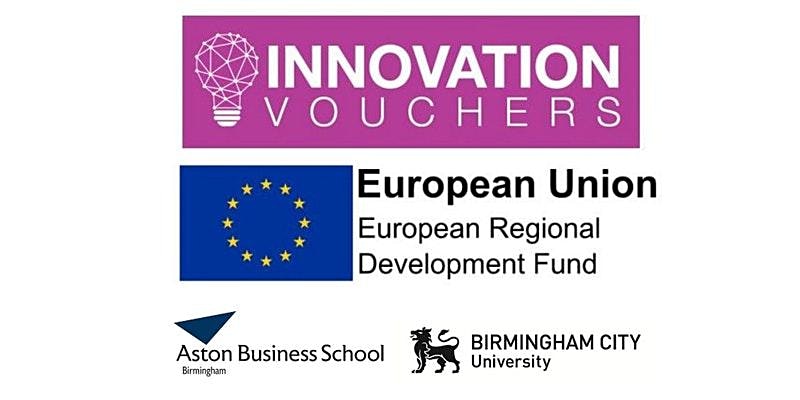 Our workshop programme offers the concepts, tools, and techniques needed to create a culture of innovation todrive your business growth.
About this event
Are you looking for new insights to take your business forward?
Coming up with new ideas for your business can be a great way to overcome obstacles, and can lead to the realisation of new products, services and processes.
Sometimes it can be hard to implement this on your own, and this is where our Business Innovation Workshops can help by introducing you to new ways of thinking, tools and techniques to try, and a great space to generate and share your ideas with like-minded professionals.
Business Innovation Workshops Programme
The programme comprises 3 full-day workshops. Please register for each workshop separately: Wednesdays 8, 15, 29 September. The programme is open to eligible businesses* (see Eligibility Criteria). Birmingham venue to be confirmed.
Our business support specialists will help SMEs develop new knowledge, experiment with practical exercises, and drive innovation across three specific topics:
You will gain an understanding of the concepts, tools, and techniques needed to create a culture of innovation and develop a framework to implement in your own company to drive business growth.
During our workshops, we will help you to identify, understand, and assess your company's strategic and cultural abilities, and create a business environment of innovation and growth.
Workshop 2: Leadership & Strategy for Innovation
Hosted by:
Dr Mark Gilman, Professor of SME Growth & Development at Birmingham City University,
Nicholas Theodorakopoulos, Full Professor of Entrepreneurship Development and Director of the Innovation Vouchers and Diverse Supply Chains programmes, Aston Business School, and
Pawan Budhwar, 50th Anniversary Professor of International HRM at Aston Business School.
This workshop is designed to help small-business owners build their strategic leadership capacity and enhance the cultural and structural effectiveness of their organisation for innovation.
With the onset of advanced technologies, globalisation, and the need to be able to respond to constant change in increasingly complex environments, the innovation process has been supported by the utilisation of new information and communication technologies. However, although technical tools can support knowledge management linked to innovation, such approaches in their own right do not create competitive advantage because they are readily available to others.
The creation of competitive advantage rests fundamentally in relational tools that challenge organisations to post, share, screen, rate, adapt, blend, enhance and ultimately implement new ideas.
Drawing on our experience from previous successful SME support programmes we have run, the workshop is designed and delivered around three pillars:
Pillar 1: Generating ideas, identifying and exploiting opportunities
Pillar 2: Formulating an appropriate strategic position and business model
Pillar 3: Setting up organisational mechanisms and culture that support innovation
It also introduces the BIG Ten Characteristics of Growth: characteristics that successful SMEs use to understand and build their strategic and leadership capabilities. All these tools involve organisational behaviours and mechanisms needed to identify and take advantage of sources of innovative thinking, evaluate the potential success of creative ideas, and take calculated risks by using sound judgement.
It is advised that companies attend each workshop just once.
All Business Innovation Workshops start at 9.30am and end at 5pm.
The workshop, lunch and refreshments will be provided in a Covid-safe manner.
Important Information
The programme comprises three full-day workshops and participants are encouraged to attend each of the workshops to gain the full benefit of the content. On completion, delegates receive a prestigious 'Managing Innovation in Business Certificate'.
Innovation Vouchers
SMEs in need of a cash injection to drive innovation and growth could be eligible for up to £2,500 match-funding through the Innovation Vouchers scheme. https://www.innovation-vouchers.com/
* Eligibility Criteria
The programme is only available to those businesses that meet the following criteria:
Located within the GBSLEP area: Birmingham, Solihull, Bromsgrove, Redditch, and Wyre Forest (based upon Kidderminster), through funding from the European Regional Development Fund.
Based in an eligible sector. See this page for more details: https://www.innovation-vouchers.com/innovation-voucher/
Have received less than €200,000 de minimis state aid in the last three years (see below).
Meet the European Union definition of a small and medium-sized enterprise (SME) i.e. employ less than 250 full-time staff (or equivalent), have an annual turnover of no more than 50 million euros and/or annual balance sheet no more than 43 million euros. See this page for more details: https://ec.europa.eu/growth/smes/sme-definition_en
De Minimis State Aid
The support we plan to provide through the workshops will comply with the State Aid rules using the de minimis exemption (in accordance with Commission Regulation (EU) No 1407/2013, OJ L 352/1). Under this exemption a single undertaking may receive up to the limit of €200,000 of De Minimis aid from the Member State within which it does business and which provides the aid over any period of three fiscal years.
To attend the workshops, you will be asked to complete a Statement of Previous Aid received under the De Minimis exemption and arrange for a director of your business to sign it. Using this information we will assess your eligibility to receive assistance.
*The value of the aid under this initiative to attend the full workshop series is £2,326.80 which at the current European conversion rate is €2,713.05. An up-to-date figure may be provided to you. You may need to declare this amount in the future.
Location and Parking
CONNECT Space, Level 2, Millennium Point Building, Curzon Street, B4 7XG
There is a multi-storey car park owned and managed by Birmingham City Council situated adjacent to Millennium Point. The car park can be accessed via Jennens Road, and Millennium Point is clearly signposted from all main routes into the city – simply follow the brown tourist signs. The nearest motorways are the M6, M5 and M42. NB. If using sat nav please use the following postcode: B4 7AP. The multi-storey car park has a height restriction of 2.1m (6'10").