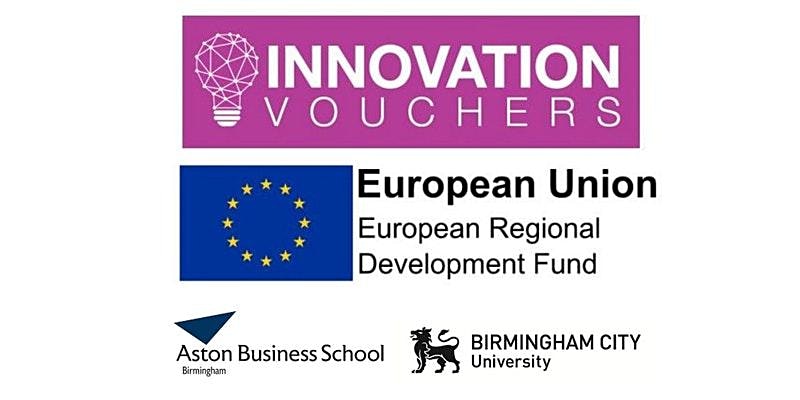 Our workshop programme offers the concepts, tools, and techniques needed to create a culture of innovation to drive your business growth.
About this event
Are you looking for new insights to take your business forward?
Coming up with new ideas for your business can be a great way to overcome obstacles, and can lead to the realisation of new products, services and processes.
Sometimes it can be hard to implement this on your own, and this is where our Business Innovation Workshops can help by introducing you to new ways of thinking, tools and techniques to try, and a great space to generate and share your ideas with like-minded professionals.
Business Innovation Workshops Programme
The programme comprises 3 full-day workshops. Please register for each workshop separately: Wednesdays 8, 15, 29 September. The programme is open to eligible businesses* (see Eligibility Criteria). Birmingham venue to be confirmed.
Our business support specialists will help SMEs develop new knowledge, experiment with practical exercises, and drive innovation across three specific topics:
You will gain an understanding of the concepts, tools, and techniques needed to create a culture of innovation and develop a framework to implement in your own company to drive business growth.
During our workshops, we will help you to identify, understand, and assess your company's strategic and cultural abilities, and create a business environment of innovation and growth.
Workshop 3: Marketing for Innovation
Hosted by:
Geoff Parkes, MBA and MSc Programmes, Aston Centre for Growth, and
Barny Morris, Associate Professor, Head of Strategy, Management and Marketing at Birmingham City University.
This workshop will examine the psychology of sales and consumer behaviour.
Most SMEs face the problem of how to increase their sales. They have relatively little time to think about how this affects the sales function and how sales needs to fit strategically and culturally with the vision for the business.
We will investigate what is the perceived value of the product or service to those who are likely to buy it. We know that people are driven to buy if they think that they are likely to miss out if they don't buy it in a certain time period. So, the question is why should I make my decision to buy now? We know that if an item is popular, more people are likely to want to buy one as well. We also know that when items are scarce it creates more demand.
So, in perceiving the value of products/services we know that people are not always rational about spending money. Therefore, how you price and discount your products relies on knowledge of the market and customer preferences. Do you deliver on the promises that you have made to your customers? Psychology tells us about how customers make decisions and helps us consider the whole service offering and value of your product or service. The workshop will also examine the organisation's value proposition allowing a link between organisational strategy and marketing strategy.
It is advised that companies attend each workshop just once.
All Business Innovation Workshops start at 9.30am and end at 5pm.
The workshop, lunch and refreshments will be provided in a Covid-safe manner.
Important Information
The programme comprises three full-day workshops and participants are encouraged to attend each of the workshops to gain the full benefit of the content. On completion, delegates receive a prestigious 'Managing Innovation in Business Certificate'.
Innovation Vouchers
SMEs in need of a cash injection to drive innovation and growth could be eligible for up to £2,500 match-funding through the Innovation Vouchers scheme. https://www.innovation-vouchers.com/
* Eligibility Criteria
The programme is only available to those businesses that meet the following criteria:
Located within the GBSLEP area: Birmingham, Solihull, Bromsgrove, Redditch, and Wyre Forest (based upon Kidderminster), through funding from the European Regional Development Fund.
Based in an eligible sector. See this page for more details: https://www.innovation-vouchers.com/innovation-voucher/
Have received less than €200,000 de minimis state aid in the last three years (see below).
Meet the European Union definition of a small and medium-sized enterprise (SME) i.e. employ less than 250 full-time staff (or equivalent), have an annual turnover of no more than 50 million euros and/or annual balance sheet no more than 43 million euros. See this page for more details: https://ec.europa.eu/growth/smes/sme-definition_en
De Minimis State Aid
The support we plan to provide through the workshops will comply with the State Aid rules using the de minimis exemption (in accordance with Commission Regulation (EU) No 1407/2013, OJ L 352/1). Under this exemption a single undertaking may receive up to the limit of €200,000 of De Minimis aid from the Member State within which it does business and which provides the aid over any period of three fiscal years.
To attend the workshops, you will be asked to complete a Statement of Previous Aid received under the De Minimis exemption and arrange for a director of your business to sign it. Using this information we will assess your eligibility to receive assistance.
*The value of the aid under this initiative to attend the full workshop series is £2,326.80 which at the current European conversion rate is €2,713.05. An up-to-date figure may be provided to you. You may need to declare this amount in the future.
Location and Parking
CONNECT Space, Level 2, Millennium Point Building, Curzon Street, B4 7XG
There is a multi-storey car park owned and managed by Birmingham City Council situated adjacent to Millennium Point. The car park can be accessed via Jennens Road, and Millennium Point is clearly signposted from all main routes into the city – simply follow the brown tourist signs. The nearest motorways are the M6, M5 and M42. NB. If using sat nav please use the following postcode: B4 7AP. The multi-storey car park has a height restriction of 2.1m (6'10").